FDT Welcomes its new Fellow – Meet Dr Ahsan Sethi
21 July 2023 2:17pm

Back to News Home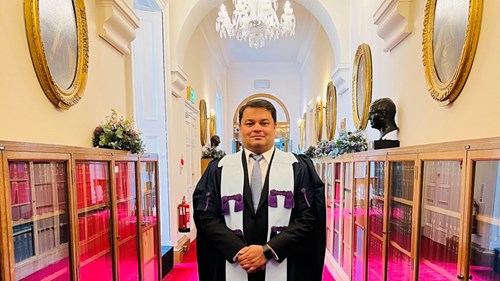 Last month, the RCSEd Faculty of Dental Trainers welcomed its new Fellow, Dr Ahsan Sethi, who is Associate Professor and Program Coordinator for the Certificate/Masters in Health Professions Education at Qatar University.
Currently teaching postgraduate health professions education courses at Qatar University, Dr Sethi is leading the curricular design and development of these programmes. Previously, he led the undergraduate curriculum reforms, faculty development and teaching/supervision of postgraduate students in medical education at the Khyber Medical University, Pakistan. He maintains an active research profile, focusing on curriculum, assessment, faculty development and professional identity. Dr Sethi has supervised over 45 MSc students and has over 50 publications in various national and international (IF WoS and Scopus) journals. He is also an associate editor of the Frontiers in Medicine (Health Professions Education) and Education in Medicine journals. His presence strengthened the research supervision capacity to initiate Masters and PhD programmes in medical education in Pakistan, and he aspires to achieve the same in Qatar. 
We spoke with Dr Sethi and learned more about his Fellowship with the FDT, as well as the challenges he went through to attain this achievement.
Tell us about your journey to become a Fellow of the RCSEd Faculty of Dental Trainers and what it means to you.
"My journey to become a Fellow of the RCSEd Faculty of Dental Trainers has been a transformative and fulfilling experience. As a dedicated dental professional, I have always been passionate about advancing my knowledge and skills in the field of dentistry. Becoming a Fellow of this esteemed Faculty has been a significant milestone in my career and a testament to my commitment to dental education and training. 
The path to achieving this honour has been challenging, but each step has been rewarding. It began with years of rigorous clinical, academic and research training. I also engaged in continuous professional development and furthered my understanding of the latest advancements in dental curriculum, assessment, and teaching methodologies. The process involved contributing to scholarship and research in the form of publications and conference presentations. 
Being recognised as a Fellow of the RCSEd Faculty of Dental Trainers holds deep significance for me. It signifies the acknowledgement of my dedication and commitment to dental education, as well as my ability to inspire and guide aspiring dentists. As a Fellow, I will have the privilege of becoming part of a prestigious community of dental educators, where I can collaborate with like-minded professionals, exchange ideas, and contribute to the advancement of dental education globally. More than just an achievement, the fellowship represents a responsibility to give back to the dental community and positively influence the future of dentistry. It provides a platform to mentor and empower the next generation of dental professionals, ensuring the highest standards of patient care and ethical practices. It also means that I will be continuously challenged to stay at the forefront of dental knowledge, fostering a lifelong commitment to learning and growth. 
Overall, the journey to becoming a Fellow of the RCSEd Faculty of Dental Trainers has been a defining and fulfilling chapter in my professional life. I am grateful for this opportunity, and I look forward to embracing the responsibilities that come with this esteemed title."
How was your experience at the Diploma Ceremony at the College? 
"Attending the Diploma Ceremony at RCSEd in Edinburgh was an unforgettable and joyous experience. As I entered the venue, I was surrounded by fellow graduates, all dressed in elegant gowns, ready to celebrate academic achievements. The ceremony began with a formal academic procession, which added a sense of tradition and solemnity to the occasion. The speeches were inspiring and thought-provoking. The highlight of the ceremony was, of course, the moment when my name was called. Walking across the stage to receive my diploma was an indescribable feeling of accomplishment. As I shook hands with the College President and accepted my diploma, I couldn't help but feel an overwhelming sense of pride and joy. My family and friends, sitting in the audience and watching online, erupted in applause, and their beaming faces made the moment even more special. After the formal proceedings, there was a lively reception where I mingled with my family, and I also made new friends. The sense of accomplishment was contagious, and the air was filled with laughter and congratulatory messages. Overall, the Diploma Ceremony at my College was a beautiful and cherished experience."
What are your future career plans, and how will your Fellowship with the FDT help you with your endeavours?
"I envision myself taking on a prominent role as a dental educator and assuming leadership roles in educational institutions, professional organisations and dental societies. Becoming a Fellow of the RCSEd Faculty of Dental Trainers will play a pivotal role in helping me achieve these aspirations and will enhance my endeavours in several ways. This recognition will elevate my professional standing and reputation, making me a sought-after authority in the dental community. As a Fellow, I will have the opportunity to connect with like-minded professionals, experienced educators, and dental experts within the FDT community. This network will facilitate collaboration, exchange of ideas, and access to new opportunities, fostering personal and career growth. Through workshops, conferences and seminars, I will have access to ongoing learning opportunities to refine my teaching skills and stay updated on emerging trends in dentistry. As a Fellow, I will have the chance to engage in mentorship roles, guiding and inspiring the next generation of dental professionals. The fellowship will provide me with a platform to actively contribute to the development and improvement of dental education and training programmes both locally and globally. I will be better positioned to advocate for educational reforms and policies that prioritise excellence in dental training. Overall, the Fellowship with the FDT is an invaluable opportunity for personal and professional growth, allowing me to make a lasting impact on dental education, mentor future dental practitioners, and advance the field of dentistry as a whole."