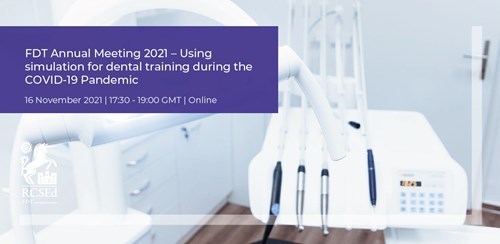 FDT Annual Meeting – Using Simulation for Dental Training During the COVID-19 Pandemic
Our 2021 Annual Meeting took place online on Tuesday 16 November, 17:30 – 19:00 GMT. The event provided an update by FDT Director Dr Sarah Manton on the activities of the Faculty, as well as a presentation from the University of Leeds on their experience with training using the Simodont Dental Trainer to prepare their dental students to return to treating patients and to support clinical teaching. We also explored the pros and cons of simulation training and how the use of haptics could develop in dental education and training.
Valuable for all members of the dental team involved in education and training, we discussed teaching methodologies, old and new
Haptics
Robotics
Webinars
Digital dentistry
Blended learning
and Didactic teaching
Click here

 

to watch the full recording of our FDT Annual Meeting.