New Webinar: Introducing Entrustable Professional Activities into the Undergraduate Curriculum
12 September 2023 1:44pm

Back to News Home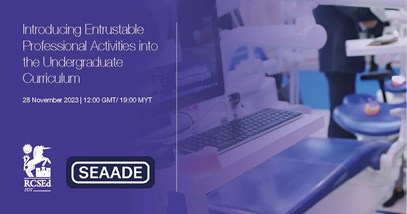 Introducing Entrustable Professional Activities into the Undergraduate Curriculum
28 November 2023 | 12:00 GMT/ 19:00 MYT
Over a decade ago, training programmes based on Entrustable Professional Activities (EPAs) were mostly seen in postgraduate programmes and its use in undergraduate programs has been described more recently. Entrustable professional activities (EPAs) have become an important topic within competency-based healthcare professional education programmes in many countries. The EPAs, act as a bridge between a competency framework and daily clinical practice.
Understand the concept of EPAs and how they can be designed for undergraduate dental education. (GDC Learning outcome C)
Know how to undertake the developmental steps required to work towards implementing an EPA-based dental programme. (GDC Learning outcome B, C)
Recognise how EPAs can contribute towards qualifying dental practitioners for safe clinical practice. (GDC Learning outcome  D)
Appreciate how levels of supervision contribute to the workplace-based assessment of dental students. (GDC Learning outcome B)
Learn more and sign up HERE.