Registration is Now Open for DeNTS – an Assessment Tool for Rating the Non-Technical Skills of Dentists
7 March 2023 11:56am

Back to News Home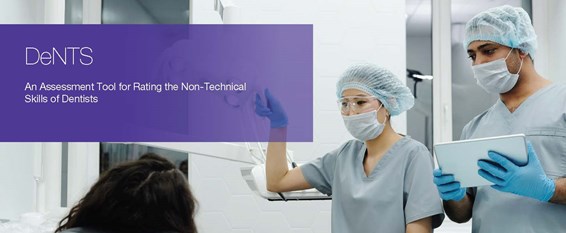 It is well accepted that most clinical mistakes in dentistry and surgery are due to human error. It is often not the technical ability that lets the clinician down, but the non-technical skills needed for situation awareness, decision making, teamworking, communication and task management.
How can learning about these skills improve performance? Can you recognise and manage stress when working? How can good non-technical skills optimise good clinical outcomes and patient safety?
Click HERE to reserve your spot now!
Elevate the effectiveness of your dental team and dental trainees by teaching them the non-technical cognitive and social skills that underpin individual and team performance. Learn how assessing non-technical skills can support and develop the ability to deliver best practice and safe patient care.
Learn from DeNTS how better non-technical skills can deliver safer patient care
Elevate your team by training them in non-technical skills
Improve the non-technical skills of your dental trainees using DeNTS
Struggling with stress when working? See how improving your non-technical skills can help
Are you teaching your trainees about the non-technical skills that can improve their clinical practice?
Find out how good non-clinical skills improve patient safety
Can you operate more safely in your clinical practice?
Can you afford not to know about the impact of non-technical skills as a dentist?
Are you taking any risks if you ignore or don't understand non-technical skills?
Open our DeNTS brochure to find out more!
"I was never taught about the relevance of good non-technical skills for delivering better clinical outcomes and safer patient care. Understanding how situation awareness, decision making, communication, task management, teamworking and managing stress can impact on clinical performance transforms how you work. DeNTS allows dentists and trainees to reflect upon and develop their non-technical skills in a safe environment." - Dr Sarah Manton, FDT Director