The RCSEd Faculty of Dental Trainers New Members – Meet Dr Hakeem Ajao
13 June 2023 3:22pm

Back to News Home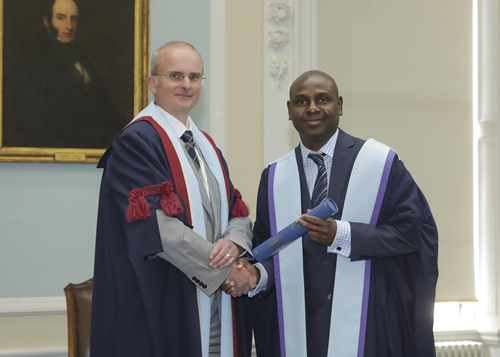 Last month the Faculty of Dental Trainers welcomed its new Member, Dr Hakeem Ajao who travelled from Leeds to attend our Diploma Ceremony along with tens of other Dental Members. 
Dr Hakeem Ajao works as a Specialty Dentist at the Leeds Dental Institute where he is also an educational supervisor for junior dentists. He graduated from the University of Ibadan in 2002 and worked as a senior house officer in oral and maxillofacial surgery. Dr Ajao is also a Fellow of the Royal College of Surgeons in Ireland.  
We spoke with Dr Ajao and learned more about his Membership with the FDT his motivation to become a member of the Faculty.
What motivated you to become a member of the RCSEd Faculty of Dental Trainers?
"I was inspired to become a Member of the RCSEd Faculty of Dental Trainers to be involved in education, training, and assessment of members of the oral health team."
How would you describe your experience with attending the Diploma Ceremony at the College?
"Attending the Diploma Ceremony was amazing, I had a memorable experience meeting other Diplomates at the College".
What are your future career plans and how will your membership with the FDT help you with your endeavors?
"First my role as an educational supervisor and now my Membership with the FDT has immensely improved my decision-making skills and further made me a better dental trainer."  
To learn more about the RCSEd Faculty of Dental Trainers and how to join, visit our main website.