The Faculty of Dental Trainers' Third Annual Meeting
Our Third Annual Meeting took place in Birmingham on 15 November 2019.
The topic of the event was Mentoring and Reflection, Ways and Means and provided members of the dental team with the opportunity to debate the differences between coaching and mentoring and to learn from our speakers new methods for students and trainees to reflect.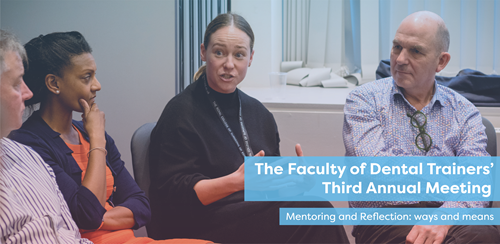 Speakers
Dr. Kirsten Jack, Manchester Metropolitan University  
Reflection, is there a comfort zone?
Jane Dalgarno, Chair BADN 
Mentoring or coaching?
Dr Andrew Perkins and Dr Ganase Dharrie-Maharaj, Black Box Dentistry
The impact of human factors
Dr Catherine Coelho, Clinical Associate Professor (Education), Peninsula Dental School
Supporting colleagues through mentoring - what, why and how?
Dr Sarah Manton, Director, Faculty of Dental Trainers, RCSEd
Dental Non-Technical Skills (DeNTS) - reflection or mentoring?