Annual Meeting 2019
The Faculty of Dental Trainers' Third Annual Meeting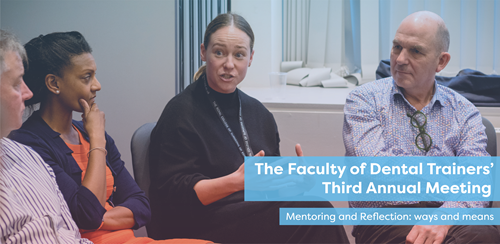 Join us at our Third Annual Meeting in Birmingham on 15 November 2019. 
The topic of the event is Mentoring and Reflection: Ways and Means, providing members of the dental team with the opportunity to:
Better understand the concept of Human Factors

 

and how they affect outcomes
Respond to threats and errors appropriately
Apply management models

 

to everyday practice

 

to improve patient safety
Find effective ways to communicate with patients and the dental team 
Maintain behaviour and attitudes which boost confidence

 

in yourself and the dental profession 
Speakers
Dr. Kirsten Jack, Manchester Metropolitan University  
Reflection, is there a comfort zone?
Jane Dalgarno, Chair BADN 
Mentoring or coaching?
Dr Andrew Perkins and Dr Ganase Dharrie-Maharaj, Black Box Dentistry
The impact of human factors
Dr Catherine Coelho, Clinical Associate Professor (Education), Peninsula Dental School
Supporting colleagues through mentoring - what, why and how?
Dr Sarah Manton, Director, Faculty of Dental Trainers, RCSEd
Dental Non-Technical Skills (DeNTS) - reflection or mentoring?
Worth 6 CPD points, this exciting meeting will be of relevance to the whole dental team - book your place here!